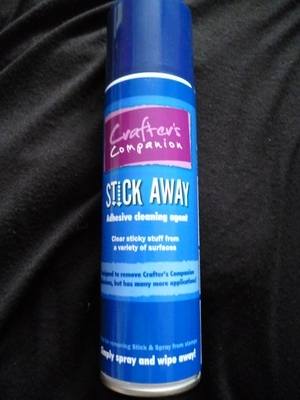 CRAFTER'S COMPANION STICK AWAY ADHESIVE CLEANING AGENT 250ML
CLEAR STICKY STUFF FROM A VARIETY OF SURFACES.
DESIGNED TO REMOVE CRAFTER'S COMPANION ADHESIVES,BUT HAS MANY MORE APPLICATIONS.
IDEAL FRO REMOVING STICK AND SPRAY FROM STAMPS.
SIMPLY SPRAY AND WIPE AWAY.
STICK AWAY IS POWERFUL ADHESIVE RESIDUE REMOVER FOR A VARIETY OF SURFACES,SUCH AS RUBBER,GLASS,PLASTIC AND CHINA.